Exploring Tel Aviv in the best way possible
In a relatively flat city like Tel Aviv where rain is virtually unheard of and the streets are lined with 120 km of bike paths, there is no better way to explore the city than on two wheels.
Our private tours include a certified experienced tour guide who, consulting with you, will build a tailor made tour designed to suit your specific needs.
Our tour is all about getting to know Tel Aviv – the city where Israel comes together.
Don't know what to see in Tel Aviv? Don't worry, that's why we have a professional tour guide you'd love to hang out with. After years of offering bike tours and getting to know every part of the city, we've created unique routes around the city. It really fits everyone! A private tour is approximately three hours long and once finished we highly encourage you to keep the bikes until closing time for you to enjoy the rest of the day around town. The cost of a private tour varies, in order to give you an accurate quote kindly provide us with some information and we'll respond ASAP./span>
For More Information about our Tours Pleas Fill up this form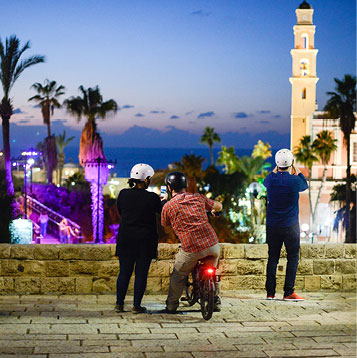 The Blue trail - Highly recommended !
Drive around Tel Aviv's waterfront! We'll start in Bat Yam, along the coast through Jaffa all the way to Reading Electrical Plant in Northern Tel Aviv. The tour showcases Jaffa's story which began over 3500 years ago, the Blockade Runs and Antanela Memorial, the construction of the Tel Aviv port in the 1940's and more
The White Trail - Recommended for small groups
Bike around the "White City", a UNESCO World Heritage site and the world's largest outdoor museum. In the 1920's-1940's over 4000 buildings were constructed using the Bauhaus architectural style. From there we'll head to the Jaffa Port and its small alleys. Ride around Jaffa, the doorway to the Holyland: Old Jaffa, the ancient square, Hapisgah Garden, St. Peter's Church, The Clocktower square and more. Later we'll head into Tel Aviv's "Little Paris"- Neve Tzedek, where we'll visit Shay Agnon's home, the Rokah museum, the old Eden theatre, Susan Dhalal Center of the Arts and more.
An "electrifying" ride around the city that never sleeps' green parks. We'll start from The Midron Park just south of Jaffa Port and look over Jaffa's southern neighborhoods. We'll head north to Hayarkon Park with its beautiful lawns and large trees on the bank of the Yarkon River. We'll visit the Ancient Rock Park, the Cactus Garden, the Artificial Pond, the Seven Flour Mills, Napoleon Hill, a Philistine Inn and more!